This is a personal, unofficial webpage run by someone who likes Little Abington Campsite.
About the Campsite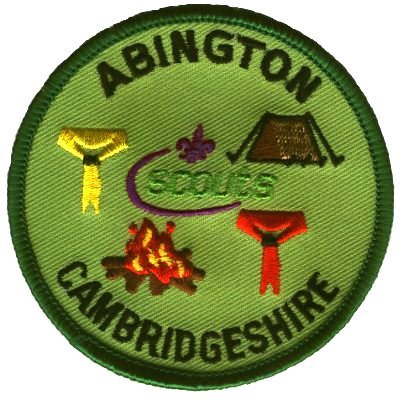 Little Abington Campsite and Training Ground—or Abington Woods— is a campsite and outdoor education centre. It used to be a Scout campsite, and is now owned by Cambridge International School, who are looking to transfer it to a trust along with the Parish Council. The village of Little Abington itself lies around eight miles south-east of Cambridge, close to the A1307. The campsite is here (at the green arrow) on Google Maps.
Bookings: The new owners of the campsite, Cambridge International School, are now accepting bookings from October 2014. This is a joint venture with Little Abington Parish Council. Contact the Site Manager on abingtonwoods@gmail.com for more information.
The campsite comprises grass and woodland, covering about seven acres; it is bordered on the south by the small stream that becomes the River Granta. There are indoor catering facilities, showers, and toilets. There are plenty of routes for hiking in the local area. Local attractions include Duxford Imperial War Museum and Linton Zoo.
The site is home to the Abington Jeremiahs Scout Group.
History and ownership documents
Current status: the sale of the campsite, which was agreed back in October 2013, has now been completed. It was sold by Cambridgeshire County Scout Council to Cambridge International School, who are based in the village. The bid was put together in patnership with Little Abington Parish Council. Commenting on the sale, Daniel Sturdy from Cambridge International School said "We are delighted to be acquiring this site. We plan to operate it as an Outdoor Education Centre, including a forest school and will work with a range of community groups. We look forward to welcoming Scout Groups and other youth and community groups back onto the site in the very near future."
Historical information
Controversy and Sale
The site was the subject of considerable controversy in 2013, when the County Executive of Cambridgeshire County Scout Council decided to sell it. I've archived information about that period.
More about camping for Scouts in Cambridgeshire
There is information about camping on the Scout County's website at www.cambridgeshirescouts.org.uk. This includes a Campsite directory, interspersing information about alternative campsites inside and outside Cambridgeshire.
This website
I should like to make it clear that the present website isn't representing, or run on behalf of, Cambridgeshire County Scout Council. I used to run the official campsite website at this address, but what you're now reading is unofficial.
Matthew Smith (E-mail: webmaster@abingtoncampsite.org.uk. Also www.)