The campsite is on Church Lane, Little Abington, Cambridge, CB21 6BQ. The OS grid reference for the site is TL 532492, which is on Landranger 154 and Explorer 209. The site is here (at the green arrow) on Google Maps.
Directions by Road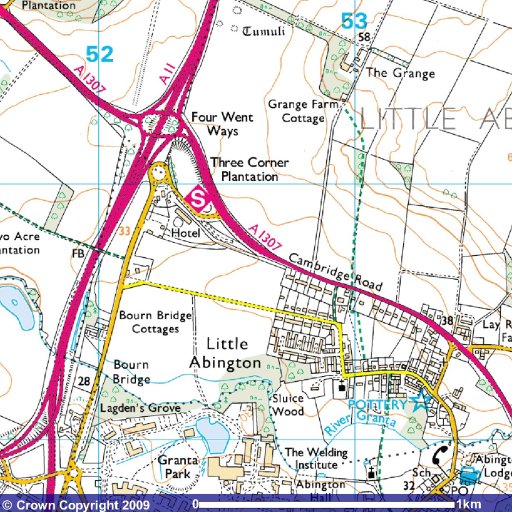 Image produced from the Ordnance Survey Get-a-map service. Image reproduced with kind permission of Ordnance Survey and Ordnance Survey of Northern Ireland. Click on the map to view a larger version.
From the junction of the A11 and A1307 (which is an elevated roundabout) take the A1307 towards Haverhill. Keep on this road into the 40mph restriction. Take the right turn signposted "Abington" just past the Acorn Garage. This is Little Abington High Street. When the road bends sharply to the left by Abington Pottery, turn right into Church Lane. Past the first road on the left is a row of bungalows; at the end of the row there is a gravel road on the left (with a Scout logo sign) which leads into the site. Do not take the second entrance (immediately after the first) as this is the footpath.
If coming along the A505 you will see signs to Abington, but it is best to stay on the A505 as it merges onto the A11, and then leave the A11 at the junction with the A1307 and follow the directions above.
If coming along the A1307 from the Haverhill direction, take the second of the left turnings signposted to Abington, just before Acorn Garage. This is Little Abington High Street, and you can follow the directions above.
On the map shown, Little Abington High Street is the orange road that goes past the pottery, and Church Lane is the yellow road. The entrance to the site is more or less where the footpath (green dashed line) that goes through the "E" of "POTTERY" meets Church Lane, though on the ground the gravel road into the site runs slightly East of, and parallel to, the footpath. The car park is just above the "R".
Arriving by Rail
Cambridge is a main line station and 'bus services run from outside the station. For general enquiries at Cambridge Railway Station, telephone 01473 693333. (There's also National Rail Enquiries, telephone 08457 484950.)
Arriving by 'Bus
The 13 'bus service, operated by Stagecoach, runs every hour (and more often at busy times.) To contact Stagecoach, telephone (01223) 423578 or (01223) 423554.