Homepage for this website (which, as explained there, is unofficial).
Current Status
The sale of the campsite, which was agreed back in October 2013, has been completed. It was sold by Cambridgeshire County Scout Council to Cambridge International School, who have a base in the village. The bid was put together in patnership with Little Abington Parish Council. Commenting on the sale, Daniel Sturdy from Cambridge International School said "We are delighted to be acquiring this site. We plan to operate it as an Outdoor Education Centre, including a forest school and will work with a range of community groups. We look forward to welcoming Scout Groups and other youth and community groups back onto the site in the very near future."
The campsite is now managed by Abington Woods CIC (Community Interest Company) which was set up by the School and the Parish Council: contact details for making bookings are near the top of the homepage.
An outline of the site's history
On 19th March 1932 the Cambridge and District Local Association (the organization that became Cambridge District Scout Council) resolved to vest its property in trustees: the Revd Charles Wood, Maj. Gavin Macfarlane-Grieve, Walter Eaden Lilley, Giles Woodgate, Howard Mallett, and Frederick Feary. (Mr Mallett was later mayor of Cambridge: see p. 35 of this document.)
On 14th April 1932, Alexander Spencer, the previous owner of part of the site, sold it to the trustees named above for one hundred pounds. Charlie Wood paid for this out of his own pocket. The sale was of 2 acres, 2 roods, and 15 perches. (This is about 2.6 acres, or just over 1 hectare.)
On 4th June 1932 the site was officially opened.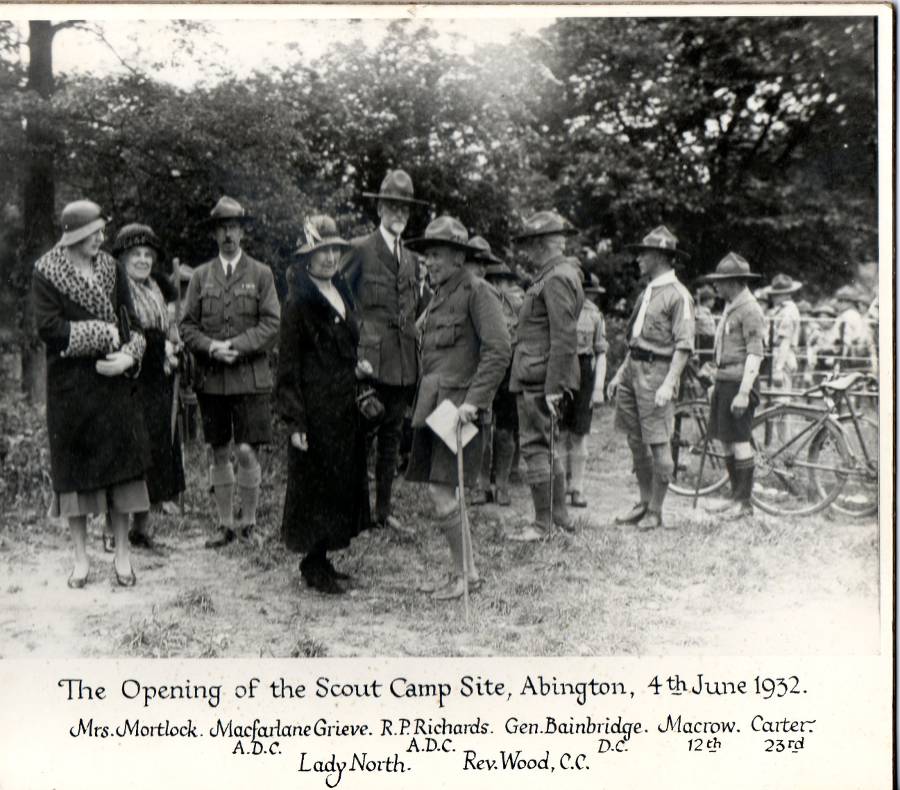 On 11th November 1938, Neville Alexander Pegg sold a further 3 acres and 20 perches (about 3.1 acres, or 1.3 hectares) which lay to the East of the original purchase. The trustees were the same as in 1932, with the exception of Mr Lilley, who had died in 1934.
On 15th June 1981, the original trustees all having died, new trustees were appointed: Lt Col. Harry Mainwaring, John Chambers, Geoffrey Datson, and Edgar Dazey.
On 19th November 1997, the trustees appointed the Scout Association Trust Corporation to succeed them in the trusteeship.
I'd like to expand this section - if anyone reading this could send me more information (or photographs) on the history of the site, please e-mail webmaster@abingtoncampsite.org.uk. More information on the timeline of the changes in ownership of the campsite is to be found in this pdf. There's also now a page with some of the original documents.
More about the history of Scouting in Cambridge
There's a website with some interesting documents here. (It includes information about Charlie Wood, for whom see below.)
More about Charlie Wood
The Revd Charles Travers Wood was a scholar and a pioneering Scout Leader. He was involved with the 9th Cambridge (Queens' College) Troop from the earliest days of Scouting, and ran it for nearly fifty years. (There's much more about this on the 11th/9th's history page.) He served as District Scout Leader for Cambridge as well, and subsequently as County Commissioner for Cambridgeshire Scouts. The campsite was his gift to Cambridge Scouts. The main building on the site is named after him, and those who knew him say that he intended the campsite to be used for Scouting forever.
In his professional life, Charlie Wood was a Fellow, Chaplain, and Dean of Queens' College, and a Lecturer in Divinity at Cambridge University. (He also represented Cambridge University at cross-county running, presumably when he was younger.) He wrote several books and essays, amongst them a Hebrew Grammar and study of Death and Beyond, which are still in print.
When remembering figures from the past, it's often interesing to speculate on what they'd make of Scouting today. We perhaps less stop to wonder whether that's really such a hypothetical question. Are they helping to watch over us? This is a deep matter on which we might understandably be hesitant to speculate. But Charlie Wood himself, a learned theologian along with his many other talents, put down some tentative ideas. I'm not sure that I fully agree with him, but I shall give him the last word. The following is taken from his "Death and Beyond".
"But from that we must return to the life of those who have died "in Christ". They are with Him, they are like Him, and they do unceasing service. Surely if Christ is here and they are with Christ, they are here too, compassing us about like "a great cloud of witnesses" (Heb. xii. 2). What other service would give them fulness of joy? Certainly, not rest in a sunny paradise! But if they are here with us, working for us as our guardian-angels, it follows that they too suffer still, even as Christ suffers still. And if at times we shrink from the thought in our love for them, yet once more we must ask, "What higher reward would they or could they implore for themselves?&quot Heaven is found in Christ-likeness; enough for them if they are as their master is. For this suffering goes now with a wider vision than ours on earth: under it, round it, over it lies the love and the peace of God. It is the suffering of love, which is always based on hope and a great patience."